Customer Reviews
As always an excellent magnesium supplement. Does everything I expect of it. Lowers my blood pressure a few points, I get good night sleep and eases muscle aches.

Alan
Really happy with the results. I've always worked long hours and I've had trouble sleeping but this Magnesium is great

Peter
Best magnesium on the market. I drink more water because it tastes so good too. I sleep better, no muscle cramps, even makes bowel movements regular.

Kaytee
This magnesium is excellent, better than any other magnesium I have tried. I highly recommend this product, plus the service is excellent.

Laurel
Magnesium Deficiency Symptoms
As magnesium is constantly being used by over 600 chemical reactions in the body, helping us functioning as we should, even a slight deficiency can significantly impact our health and day to day performance. Typical signs of a magnesium deficiency include:
Muscle cramps

High blood pressure

Fatigue

Insomnia

Migraines

Anxiety
Low levels of magnesium have been associated with insulin resistance, type 2 diabetes, asthma, osteoporosis, Alzheimer's, hypertension, cardiovascular disease, migraines, ADHD and kidney disease
​Magnesium Calculator
The amount of magnesium your body requires on a day to day basis is heavily dependant on your size and lifestyle. Use this calculator to get an idea of how much magnesium you should look to consume each day for optimal health.
On average, someone your weight should be consuming between
and
of magnesium each day to maintain optimal magnesium levels.
Magnesium Supplement Benefits
As a key element in over 600 biochemical reactions in the body, adequate levels of magnesium can result in numerous health benefits.

Primarily acting as a supporting mineral, the availability of magnesium is essential for optimal health.
One of the most important roles magnesium plays is that of helping to create energy for our cells.
The mitochondria inside our cells need magnesium to create energy for in the form of ATP to keep us alive and functioning.
Without magnesium, the nutrients we absorb could not be metabolised into usable forms of energy.
Our cells then use ATP to as their fuel source or energy to carry out other functions.
Cell Reproduction
create new cells and support cell division

Protein Synthesis
create new proteins from amino acids

Energy Creation
create new proteins from amino acids

Gene Maintenance
create and repair DNA and RNA

Nervous System Regulation
regulate messages between brain and nervous system

Muscle Fibre Contractions
contract and relax muscles properly
Description
Biosphere Magnesium has been created to be the cleanest, most bioavailable magnesium supplement available.
We have combined three types of bioavailable forms of magnesium to create the ideal dose with optimal absorption. Each serving contains 400mg of elemental magnesium, a therapeutic dose to help people maintain optimal levels of magnesium.
- Magnesium Citrate
- DiMagnesium Malate
- Magnesium Lysinate Glycinate Chelate
Our magnesium comes as a great tasting, easy to mix powder that is free of binders, fillers and artificial ingredients. Flavoured with a natural lemon flavour, sweetened with stevia and monk fruit and coloured with a dash of turmeric.
For more information about magnesium and its importance for optimal health, check out our information page here.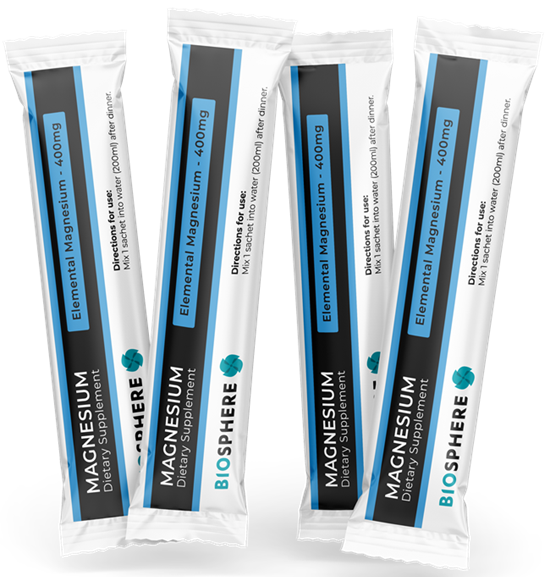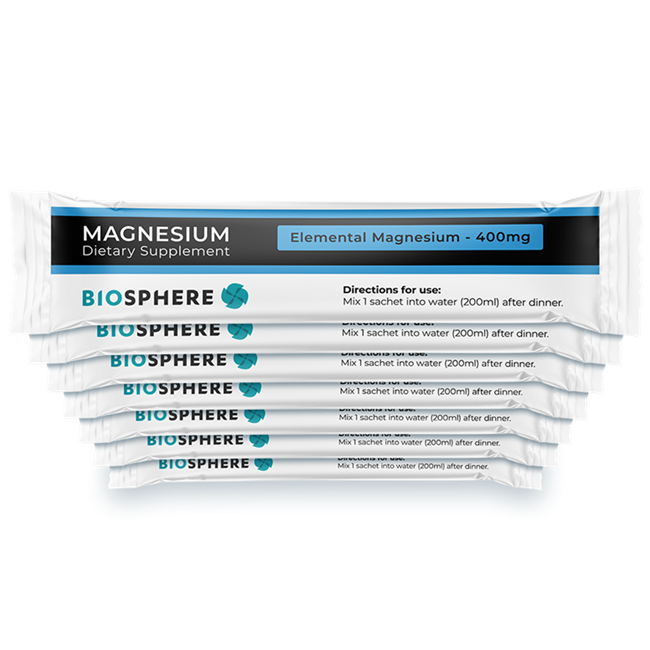 Directions of use
Mix a single scoop or sachet into water (200ml) until dissolved.
Adults: 1 serving in the evening after dinner.
Ages 8-13: Half of the adult
Ages 4-7: A quarter of the adult dose.
Ingredients
Magnesium Citrate has a great absorption rate and mixes well with water. Biosphere Nutrition have used a natural marine based magnesium citrate as one of the best forms for supplementation.

DiMagnesium Malate is a fantastic form of magnesium for people suffering from fatigue, since malic acid is a vital component of enzymes that play a key role in ATP synthesis and energy production. The ionic bonds of magnesium and malic acid are easily broken, making it highly soluble and easily absorbed.

Magnesium Lyscinate Glycinate Chelate is a form of magnesium glycinate bound to the amino acid lysine which keeps the magnesium molecule stable in its journey to the gut for absorption. Formulated by Albion Minerals®, the gold standard in mineral production, their chelated forms of magnesium are designed to be the most bioavailable possible. Magnesium glycinate is extremely easy on the stomach and is a great form of magnesium for those people looking to rectify a deficiency.

Biosphere Nutrition has combined these three forms of magnesium to offer the best rates of absorption while also accommodating to those who are sensitive to magnesium citrate at high doses. By reducing the dose of citrate and including the magnesium malate and lysinate glycinate chelate the Biosphere Magnesium supplement is great for everyone

Sweetener, Flavour and Colour are all from natural sources. We use the best available natural stevia and monk fruit extract to sweeten the powder. The flavour is a natural lemon and the powder is coloured with a dash of turmeric.

Vegan, Gluten Free, Sugar Free, Non-GMO.