Replenish your body
with a fast-acting magnesium blend

Helps boost energy levels

Manage stress & well-being

Can improve sleep

Supports 600+ bodily functions

No hard-to-swallow pills

Highly absorbable
BUY NOW & SAVE $10
Struggling with Poor Sleep, Low Energy or Muscle Cramps?
You're not alone!
These are some of the common symptoms of a magnesium deficiency that can make life tough.

Luckily, if it's due to a magnesium deficiency, the solution is quite simple!
With a quality, bioavailable form of Magnesium like Biosphere, your body
can get the mineral it's craving in a fast acting, delicious powder.

It beats spending a lot of time and money on painful solutions
or expensive drugs with serious side effects.
Magnesium Deficiency
Is A Global Health Crisis
The World Health Organization (WHO) reports that around 75% of Westerners don't get enough
magnesium to meet their daily needs.


These are the biggest factors creating our widespread magnesium deficiency...

DEPLETION
of magnesium in our food
REGULAR STRESS
that increases our body's magnesium demands
A Mineral with Many Uses
Magnesium is an essential nutrient that supports almost every major function in our bodies. It's vital for our metabolism, stress response and ability to relax or sleep.

Without magnesium, our body couldn't perform vital functions we rely on, such as producing energy, regulating blood sugar, controlling cholesterol and managing muscle tension.
Optimal magnesium levels have been shown to:

Improve energy

Normalise blood pressure

Improve sleep
Control inflammation

Regulate blood sugar

Reduce cramping
Manage anxiety

Support muscle function

Support healthy bones
Why choose Biosphere Magnesium ?
With three different forms of bioavailable magnesium, Biosphere replenishes your cells faster and more deeply than other brands.

Cheap magnesium brands have absorption rates of under 2% It's impossible to feel any benefits when the quality is so low.

Combining a therapetuic dose with three potent forms of magnesium, we've maximised absorption potential so you actually feel the difference.
Easy to mix
Simply the most bioavailable form of magnesium. This fine powder mixes in water and quickly absorbs into your cells.

Great taste
Naturally sweetened with stevia and monk fruit extract. Zero artificial flavours or refined sugars.

Once-Per-Day
Each serving has a therapeutic dose of 400mg magnesium, with a dash of turmeric to help with inflammation.

High Therapeutic Dose
This blend of magnesium is higher dose than leading brands. Paired with it's higher absorption rate, your body can get the full mineral dose it craves.

Easy to absorb powder
As we age, our guts are not able to easily break down vitamins, which means wasted money. That's why Biosphere is a fine powder - mixed in water, your body can absorb it at a much higher rate.
Great tasting, and much prefer this refreshing drink to swallowing even more tablets.
Tracey
I feel an enormous improvement in my energy levels due to finally being able to sleep.
DEBRA
I like not having to take capsules. I sleep better and my twitchy muscles have stopped.
ann
Max-Strength Magnesium
Biosphere Absorbs

FAST!
Our unique blend of three of the easiest absorbed forms of magnesium greatly enhances your body's ability to use this important mineral.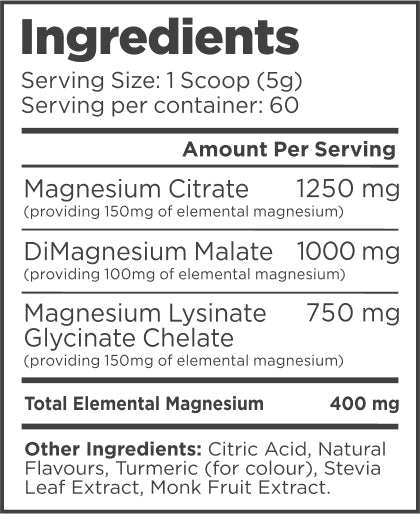 Magnesium Citrate (150mg)
Great absorption rate and mixes well with water.We use a natural marine based magnesium citrate as studies show it's one of the best for supplementation.
DiMagnesium Malate (150mg)
A potent form of magnesium for those suffering with fatigue.This form helps to ignite the energy centers of your body and stablise the stress response.
Magnesium Lysinate Glycinate Chelate (100mg)
A breakthrough magnesium mineral that lets your body absorb it more efficiently. Formulated by Albion Minerals®, with their gold standard in mineral production, these chelated forms of magnesium are designed to be the most bioavailable in the world.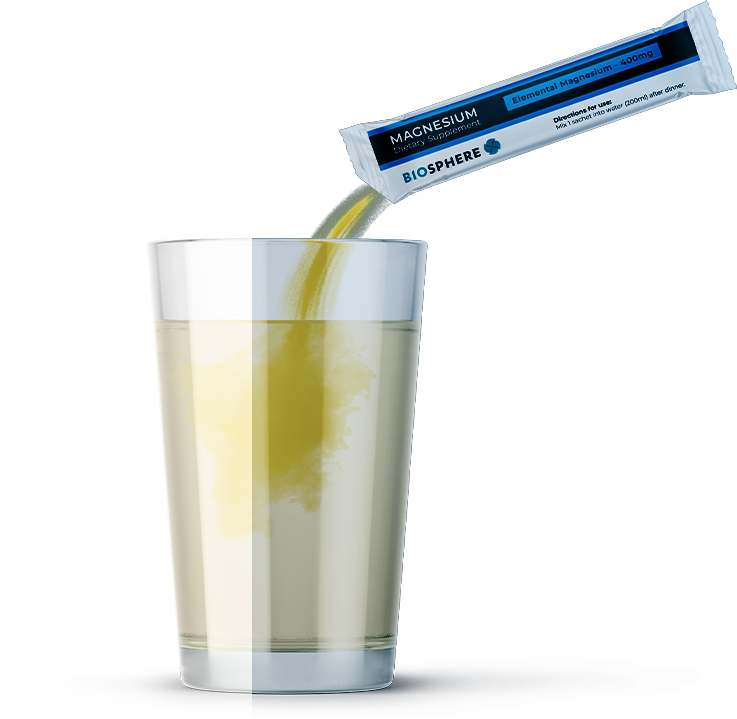 How To Use
Biosphere Magnesium
1
Dissolve powder into water
3
Quickly feel the benefits!
Recommended Dose:
ADULT
1 serving in the evening after dinner.
AGE 8-13
Half of the adult dose.
AGE 4-7
A quarter of the adult dose.
What Others Say
About Biosphere Magnesium
"I suffer migraines and I was put onto magnesium which has 3 special ingredients (which this products has) I'm happy to say that after 10 years of acute migraines, since taking this product I haven't had a migraine in 3 weeks."
Gina

I can't swallow pills, so was very pleased to find this powder that can be mixed with water to drink down. Was pretty skeptical but figured it was worth a try as I am a real insomniac and also get shocking calf cramps in the night. I have to say the cramps have gone which is amazing, and I'm getting a little sleep most nights now. Will definitely continue with this magnesium product.
Julie

"Definitely the tastiest magnesium supplement I've had, and it's really effective too. Doesn't upset my stomach, and the lemon lime flavour is lovely. It's not as cheap as others on the market, but for good reason. I won't go back to any other brand now! Having it on subscription has been great too, no needing to remember to buy more each month."
DI

"I have terrible insomnia, the tossing and turning , not being able to sleep and then when I finally did I would wake up every hour on the hour. I tried everything but nothing seemed to work until I tried this. I get to sleep quickly and stay asleep, I may wake up once but get back to sleep and stay asleep."
HIND

With hundreds of 5-Star Reviews,
it's no wonder Biosphere Magnesium is so popular for healthy living.
Try it 100% RISK FREE
With Our "Huge Difference" Guarantee
We've dedicated a lot of time and effort to bringing you the purest,
most bioavailable magnesium supplement on the market.

Your health and longevity are what we care most about. We don't want you taking cheap, poorly absorbed supplements with fillers and heavy metals that don't actually work.

That's why we're backing up our Biosphere Magnesium with a 100% Money Back Guarantee. If it doesn't make a clear difference in your issues or symptoms, just return it for a full refund. Notify our team, telling us why it wasn't a fit for you, and we'll get you a refund right there on the spot. We just ask that you try it out for at least 30 days to give it a fair shot.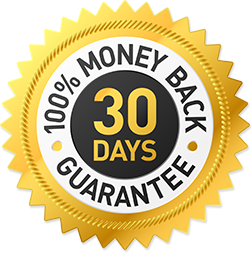 100% MONEY BACK GUARANTEE
*Valid only for first time purchases via this online store www.biospherenutrition.co.nz
BUY NOW & SAVE $10
Frequently Asked Questions
What does a magnesium supplement do?

Magnesium is a key mineral used in over 600 bodily processes such as muscle regulation, nerve function, blood sugar levels, bone growth, stress control and energy production.

A good, well-absorbed magnesium supplement will ensure your body is not suffering from a deficiency and allow it to optimise over 600 functions.

What are the symptoms of low magnesium?

If you have a less than adequate intake of magnesium, it is a risk factor that can cause muscle twitches and cramps, weak bones, fatigue and muscle weakness, high blood pressure, asthma, irregular heartbeat.

What are the side effects of magnesium?

The side effects of magnesium vary mainly depending on the type of magnesium and how much you take. Other than feeling the benefits of magnesium, higher magnesium intakes can result in an overdose
that may cause loose stool and nausea.

An overdose is unlikely to cause harm to anyone with normal kidney function.

What is the best magnesium dosage?

The optimal magnesium intake depends on individual requirements.

Daily magnesium intake for an average female should be at least 420mg per day and in males 720mg per day. Adjust your dietary magnesium intake based on how your size and magnesium deficiency varies from average.

If you exercise or sweat more than the average person, you may lose more minerals.

If you're constantly stressed, you need more than the average person.

When will my order be shipped out?

All orders ship out by the following business day.

When should I take my Magnesium supplement?

We recommend you take it within an hour or so after a meal so that the minerals are absorbed with food nutrients as our body expects them. In the evening after dinner to aid the relaxation process before sleep is optimal.

Is this Magnesium safe for children?

Yes. Best to mix a full sachet in a glass of water and split it accordingly. Perfectly fine to leave a partial glass in the fridge overnight.

Ages 8-13 – Take half a sachet

Ages 4-7 – Take a quarter of the sachet.