This article is based on scientific evidence, written by an expert. This article contains scientific references. The superscript numbers are clickable links to scientific papers at the bottom of the page
Nitric Oxide Benefits
Most of the benefits of nitric oxide in the body stem from the improved blood flow it provides; here are the key health benefits you get from using nitric oxide.
What

the Medical studies
are saying

Nitric Oxide is an extensively researched molecule. Thousands of studies look at how it works, what it does, and its role in human health.

Read our nitric oxide medical study summaries to find studies on nitric oxide for erectile dysfunction, lower blood pressure, endothelial dysfunction and more.

Nitric Oxide Medical Study Summaries
Nitric Oxide FAQ
When should I take my Nitric Oxide boosting powder?

You should take your nitric oxide boosting powder either before a meal or before exercise.

Is Nitric Oxide safe during pregnancy?

Currently, there's no evidence to suggest that nitric oxide is harmful to pregnant women.

However, the best idea is to consult your doctor before taking nitric oxide supplements during pregnancy.

How much Nitric Oxide should I take?

You should take one to two scoops of Biosphere Nitric Oxide per day.

Is the Biosphere Nitric Oxide vegan?

All Biosphere nitric oxide supplements are vegan-friendly; they all have a precise ingredients list on the back of the tub. There are also no artificial sweeteners, no sugar, no preservatives and no artificial colours.
Nitric Oxide Supplements
Biosphere Nutrition's Nitric Oxide enhancing formula combines the benefits of citrulline, arginine and a range of natural ingredients to boost nitric oxide levels, improve blood flow, normalise blood pressure and overall cardiovascular health.

Backed by decades of scientific research, this high dose of citrulline and arginine aims to increase the ability to produce nitric oxide, one of the essential molecules for optimal blood circulation.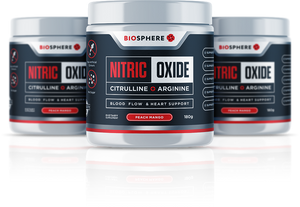 Nitric Oxide Reviews
To check out the reviews for our Biosphere Nitric Oxide and to find out what people are saying about Nitric Oxide, visit the product page here.
Nitric Oxide Reviews
Side Effects

of Nitric Oxide Supplements
Nitric oxide supplements are generally regarded as very safe when taken as per recommended. Arginine dosages over 10 grams can cause diarrhoea and stomach discomfort.