Boost your nitric oxide
with this fast-acting, therapeutic blend.

Supports optimal blood flow

Supports normal blood pressure

Improve exercise performance

Helps combat erectile dysfunction

No hard-to-swallow pills

Great tasting and easy to mix
buy now & save 20%
Struggling with high blood pressure, poor blood flow, low energy or erectile dysfunction?
You're not alone!
These are some of the common symptoms of a nitric oxide deficiency that can make life challenging. Luckily, if these symptoms are due to a nitric oxide deficiency, there are ways to fix this.
Through lifestyle, dietary intervention and supplementation, you can increase your nitric oxide production, lower blood pressure and improve blood flow throughout your body.
With a quality, nitric oxide boosting supplement, you can provide your body with the nutrients it needs to boost nitric oxide production and improve blood flow, all in a fast-acting, delicious drink.
The Science - Nitric Oxide
Based on a 1998 Nobel Prize-winning discovery, nitric oxide is the most important messenger molecule in the human body, responsible for the relaxation and constriction of all blood and lymph vessels and essential for the regulation of blood pressure and cardiovascular health. To thrive, the body must produce long-term,
bioavailable Nitric Oxide

NITRIC
Oxide
PROMOTE HEALTHY BLOOD PRESSURE

anti
aging
boost nitric oxide levels

heart
health
anti-aging support

nobel
prize
novel prize backed formula
Nitric Oxide Deficiency
Is A Global Health Crisis
While we can't supplement with a nitric oxide molecule, we can provide the body with high doses of the nutrients it
needs, in order to make nitric oxide. L-Citrulline and L-Arginine, two amino acids are the precurses to nitric oxide.
We've incorporated them at a therapeutic dose, along with a handful of heart-supporting ingredients to help
give your body what it needs to make optimal amounts of nitric oxide.
These are the biggest factors creating our widespread Nitric Oxide deficiency:
The Molecule With Many Uses
Nitric oxide is an important molecule associated with several physiological functions involving blood pressure regulation, cardiovascular health, mitochondria production, calcium transport, oxidative stress, and skeletal muscle repair. Its most important function is as a vasodilator, which means it relaxes blood vessels and improves blood flow.

Nitric oxide production is essential for overall health as it allows blood, nutrients and oxygen to travel to every part of your body effectively and efficiently.

Optimal nitric oxide levels have been shown to:

Improve energy

Improve blood pressure

Improve endurance

Support the immune system

Support the brain

Improve circulation

Reduce erectile dysfunction
Why choose Biosphere Nitric Oxide ?
Biosphere's Nitric Oxide contains a therapeutic dose of L-Citrulline and L-Arginine, along with the heart-supporting ingredients, Vitamin D Vitamin C and Hawthorn Berry Extract.
Our product is designed to boost Nitric Oxide levels, which can help to lower blood pressure and battle against cardiovascular disease, increase energy, endurance, promote healthy brain function, improve libido, support the immune system, and increase circulation.

Easy to mix, Easy to absorb
Simply the most bioavailable ingredients. This fine powder mixes in water and
quickly absorbs into your cells.

Great Taste
Naturally sweetened with stevia and monk fruit extract. Zero artificial flavours or sugar.

High Dose
Each serving has a therapeutic dose of L-Citrulline and of L-arginine to be taken morning and evening in order to keep nitric oxide levels elevated throughout the day and night.
So far an excellent product. I feel I have more energy ard generally feel better overall.
ANDREW

Blood pressure has reduced, have been well so far through winter, immune system seems stronger.
LYNN

Have felt stronger while lifting weights and feel a surge of vitality with sexual energy.
SHANE

Max-Strength Nitric Oxide
Biosphere Absorbs FAST!
Our unique blend offers easily absorbed forms of ingredients at therapeutic doses to ensure the product actually works.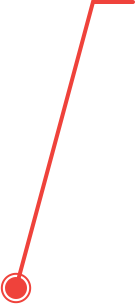 L-Citrulline Malate
L-Citrulline is an amino acid that is used by the body to produce nitric oxide and improve blood flow. It increases the body's arginine level which is the main precursor of nitric oxide production.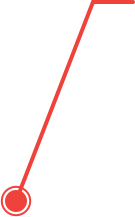 L-Arginine
L-Arginine directly supports an increase of nitric oxide in the body. It is also used to make other proteins, and stimulate the release of growth hormone, insulin, and other substances in the body.

Hawthorn Berry Extract
These berries are high in antioxidants and aid the production of nitric oxide. The extract can help normalise blood pressure by acting as a vasodilator as well as normalise blood cholesterol levels.

Vitamin C
Increases the bioavailability of nitric oxide making it easier for our body to use and benefit from. Research shows vitamin C helps make nitric oxide more available by preventing it from oxidising and helps enhance the vasodilation properties of nitric oxide.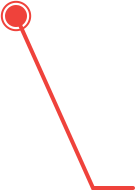 Vitamin D
Many clinical studies have indicated that low vitamin D levels are related to cardiovascular disease such as high blood pressure and the stiffening of blood vessels. Vitamin D enhances the production of nitric oxide in the inner layer of blood vessels, critical for the regulation of blood pressure.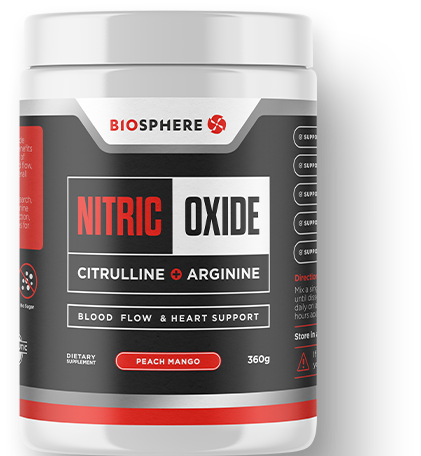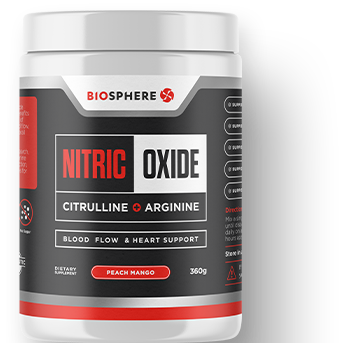 How To Use
Biosphere Nitric Oxide
1
Dissolve a scoop into a glass of water or drink bottle.
What Others Are Saying
About Biosphere's Nitric Oxide
"I love this product; my blood pressure has reduced & I feel great. It also helps with increased energy levels when exercising. I highly recommend it."
GARY

"Great stuff, makes a difference! I take this twice a day before work and before sport or the Gym. Makes a difference to my energy levels and has increased my stamina. Has also improved test results for my Diabetes. My wife and my Doctor are happy :)"
IAN

"Following the Science. Both my wife and myself have greatly benefited by regular use of Nitric oxide powder. Both of us take a dose twice a day as recommended. The benefits of taking L Citralline and L Argenine are well known. The formula provided by Biosphere gives the high dosage we need to improve blood flow. This product has cured my wife of chronic asthma. We are simply following the science of the Nitric Oxide pathway, and the benefits of doing this is reflected in our general health and increased vitality. I recommend this product."
DESMOND

"This has made the biggest difference to my health and energy levels of anything I have ever tried- and I've tried a lot! I have much better energy for exercise, and daily activities and don't feel fatigued afterward and get much less muscular tiredness. I'm sure my hormone levels have normalised to! For 62 I'm very pleased."

LINDA

My husband and I have been taking this product for 3 weeks, already we have noticed a big difference in our energy and endurance levels. My husband is a diabetic on insulin injections and has seen his blood sugar levels drop considerably, his insulin will be reviewed by doctor to assess.
KILEY

Excellent product. Increased energy, better blood flow and oxygen uptake. Particularly noticeable improvement, as I suffer from intermittent claudication (calf muscle pain - lack of oxygen to the muscle).

Such an amazing improvement. Thank you Biosphere
GRAHAM

TRY IT 100% RISK FREE
With Our "Huge Difference" Guarantee
We've dedicated a lot of time and effort to bringing you the purest, most bioavailable Nitric Oxide boosting supplement on the market.
Your health and longevity are what we care most about. We don't want you taking weak supplements with fillers and toxic by products.
That's why we're backing up our Biosphere with a 100% Money Back Guarantee. If it doesn't make a clear difference in your issues or symptoms, just return it for a full, instant refund.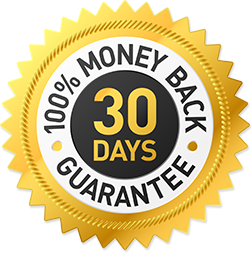 100% MONEY BACK GUARANTEE
*Valid only for first time purchases via this online store www.biospherenutrition.co.nz
BUY NOW & SAVE 20%
Frequently Asked Questions
When should I take my Nitric Oxide boosting powder?

Once in the morning and once in the evening.

Can be used before excerise for blood flow enhancement.

Can I take this Nitric Oxide formula every day?

Yes. It is dosed to be taken every day.

How much Nitric Oxide should I take?

Can this Nitric Oxide product be taken with blood pressure medication?

Yes you can take both, but make sure you closely monitor your blood pressure.